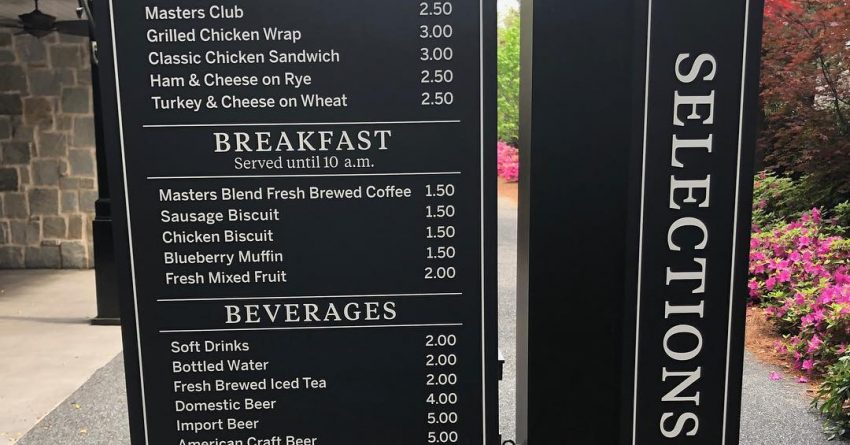 2019 Masters Food Menu And Prices
The Masters kick off today running into the weekend. One of the most talked-about things every year is the quality and low cost of the food served at the tournament.
Prices are higher at Little League games than at the Masters. Check it out!
2019 Masters food menu and prices
SANDWICHES
Egg Salad – $1.50
Pimento Cheese – $1.50
Bar-B-Que – $3.00
Masters Club – $2.50
Grilled Chicken Wrap – $3.00
Classic Chicken Sandwich – $3.00
Ham & Cheese on Rye – $2.50
Turkey & Cheese on Wheat – $2.50
BREAKFAST (Served until 10 a.m.)
Masters Blend Fresh Brewed Coffee – $1.50
Sausage Biscuit – $1.50
Chicken Biscuit – $1.50
Blueberry Muffin – $1.50
Fresh Mixed Fruit – $2.00
BEVERAGES
Soft Drinks – $2.00
Bottled Water – $2.00
Fresh Brewed Iced Tea – $2.00
Domestic Beer – $4.00
Import Beer – $5.00
American Craft Beer – $5.00
SNACKS
Chips – $1.50
Peanuts – $1.50
Crackers – $1.00
Cookies – $1.50
Georgia Pecan Caramel Popcorn – $1.50
Georgia Peach Ice Cream Sandwich – $2.00
Source: TheGolfNewsNet.com