Free Family Photos Friday!!
Came across this post from my friend Brendan MaGuire…
"This Friday, Photographer Stephen Fralick will be teaming up with my office to provide families with free family portraits.
We took this idea from a news story from Cape Breton.
This is an opportunity for those that may not be able to normally afford family portraits to get them done for free.
Please message me if you are interested and we can set up a time that works for you.
Click Brendan's name above to contact him through Facebook or click HERE for his office info, I will also post below.
Constituency Office
349 Herring Cove Road. Suite C.
Halifax, Nova Scotia
Phone: (902) 444-0147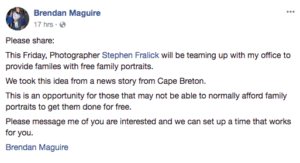 ~Russell