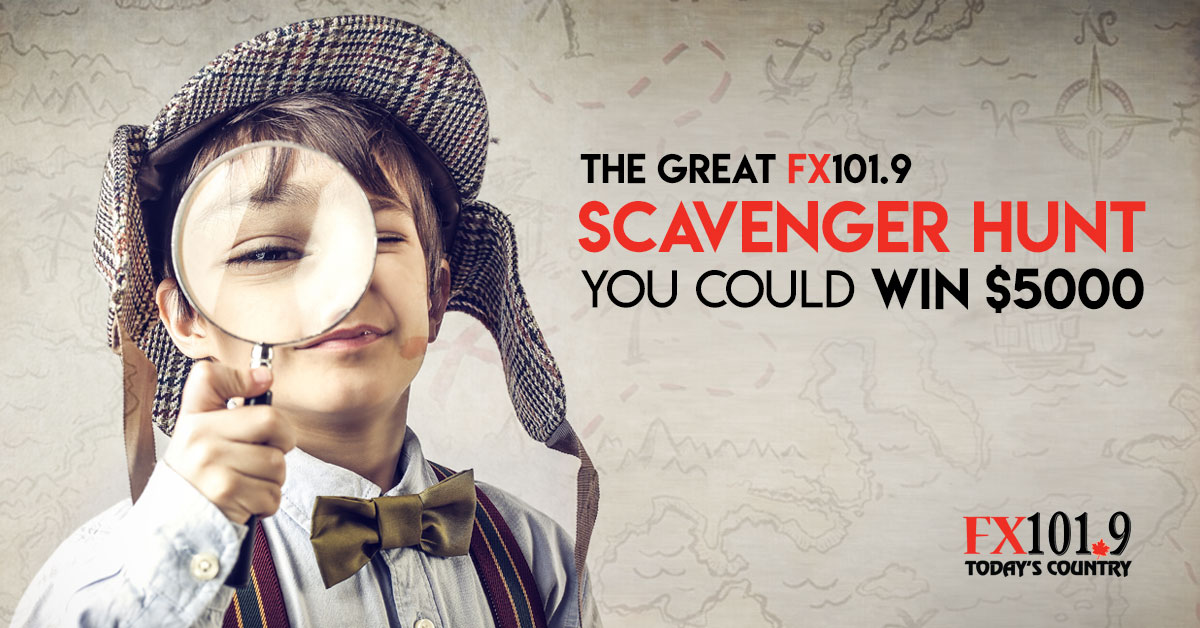 The Great FX101.9 Scavenger Hunt
Want to have some fun? Want to win some cash? FX101.9 presents the Great FX101.9 Scavenger Hunt.
How It Works
Visit our website every weekday to find out the next item you'll need to collect for the Scavenger Hunt. Collect the most of the 20 items and you could win $5000 cash! Hang on to the items you collect and bring them to the Scavenger Hunt finale on Saturday, October 6th between 9 and noon. All Registrants will receive further details in advance of the finale.
Scavenger Hunt Items
Monday, September 3: A 1970 Canadian 5 cent coin
Tuesday, September 4: A Stompin' Tom Connors vinyl LP record album

Wednesday, September 5: A picture of you or one of your teammates shaking hands with HRM mayor Mike Savage

Thursday, September 6: A twenty-dollar Monopoly note

Friday, September 7: A Halifax Dartmouth bridge token

Monday, September 10: A Garth Brooks CD

Tuesday, September 11: A receipt for exactly 10 cents worth of gas (tax included)

Wednesday, September 12: A slinky (you may have to look this up!)

Thursday, September 13: A Titleist golf ball with the number 3 on it (must be original-not hand inscribed)

Friday, September 14: A picture of you or one of your team mates on a tricycle

Monday, September 17: A rain check for an item from a grocery store

Tuesday, September 18: A 1970 Canadian 25 cent coin

Wednesday, September 19: A bank deposit receipt for $10.19 (ATM receipt or stamped by bank)

Thursday, September 20: A ticket from a Halifax Mooseheads hockey game

Friday, September 21: A picture of you or one of your teammates with a black cat

Monday, September 24: A Canadian dollar bill of any denomination with 3 consecutive 9's in the serial number (i.e. 20199957)
Register Yourself or Your Team Today!
Contest Rules & Regulations
Prize money will be distributed to the participants who collect the most items from the 20 item list. In the event of a tie, the prize money will be evenly distributed. In the case of multiple participants who are part of a team/group, the team/group counts as 1 participant.
The decision of FX101.9 is final.