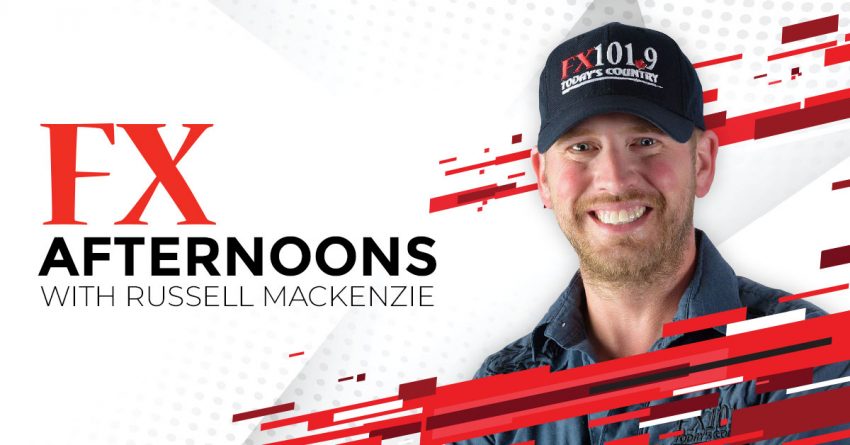 FX Afternoons with Russell MacKenzie
Q & A with Russell
You get to invite 3 people dead or alive to dinner. Who do you invite?
Sidney Crosby, John Lennon…I'm a big Beatles fan. Steve Irwin, I miss hearing him say "You're gonna bite me aren't ya??" And would hope he'd make some sort of reference to that during dinner.
Who do you admire the most?
A friend of mine, who at the time of his death from cancer, was a father of a 3-year-old that he knew…he would never see grow up. So he put together a box that has stories about him so his son will know who he was. Very sad…but VERY admirable. Life isn't all rainbows and butterflies…as we know.
What's your biggest fear?
Flying
What's your biggest pet peeve?
Rude people/keyboard warriors/Online trolls
Who is the most famous person you've ever met?
Athlete: Sidney Crosby.
Artist: Carrie Underwood/Keith Urban/Brad Paisley/Blake Shelton …this is tough to answer…I've been lucky.
What do you think Victoria's secret is?
I can't say that and have a paper trail of it online, are you kidding me??
What's the worst fashion choice you ever made?
Shaving my eyebrows in grade 5.
If you could turn any activity into an Olympic sport, what would you have a good chance at winning a medal for?
Eating hotdogs
What movie title best describes your life?
Dazed and Confused.
What's the luckiest thing that has happened to you?
Becoming a Dad, twice
What's the most immature thing about you?
My sense of humour.