Back to School Drive
August 28, 2019 @ 8:00 am

-

6:00 pm
Event Navigation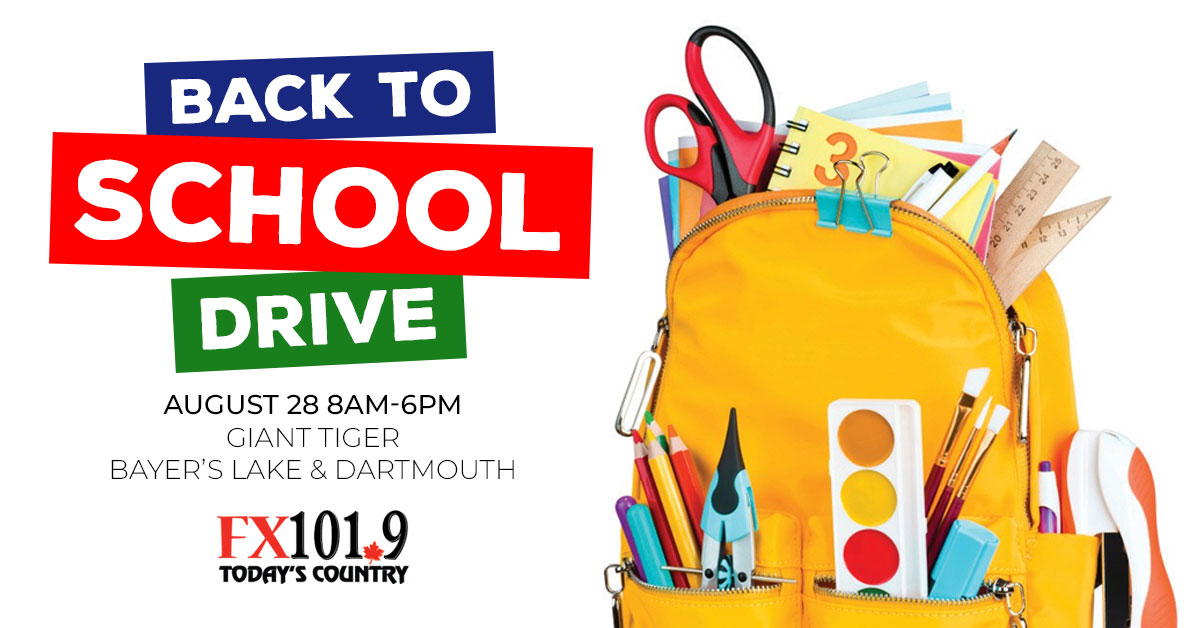 It's getting to be that time of year again, before you know it, Summer will be over!
With it, comes a new school year with lunches to be packed, pencils to be sharpened, and backpacks full of scribblers.
But for some Nova Scotians, this time of year is much tougher than others.
That's why FX101.9 wants to lend a hand and lessen the burden with our Back to School Drive in support of Parker Street Food and Furniture Bank.
Join Russell MacKenzie in Bayer's Lake, and Frankie Hollywood in Dartmouth as they stake out at Giant Tiger from 8am to 6pm on August 28th! They will be competing to collect the most school supplies at their locations.
Take a look at the list of needed supplies below, and drop off your donations August 28th!
Back Packs
Binders –Zip up ones
Binders – three-ring (1 – 2 ½ inches)
Calculators –regular and scientific
Colored pencils
Composition notebooks
Construction Papers
Crayons
Duo tangs
Erasers
Exercise note books
Flash drives/USB drives
French /English Dictionary
Geometry Sets
Glue sticks
Graph Papers
Hand Sanitizers
Highlighters
Loose leaf
Lunch bags/boxes
Pencils
Pens
Jumbo Pencil cases
Pencil holders/cases
Pocket folders
Rulers (metric)
Regular Markers/Sharpies
Scotch tapes
Scissors for grades primary to 2
Scissors for grades 3 to 12
Sharpeners
Spiral-bound books
Staplers
Tissue packs
Washable Markers
White Liquid glue