Lonestar
Event Navigation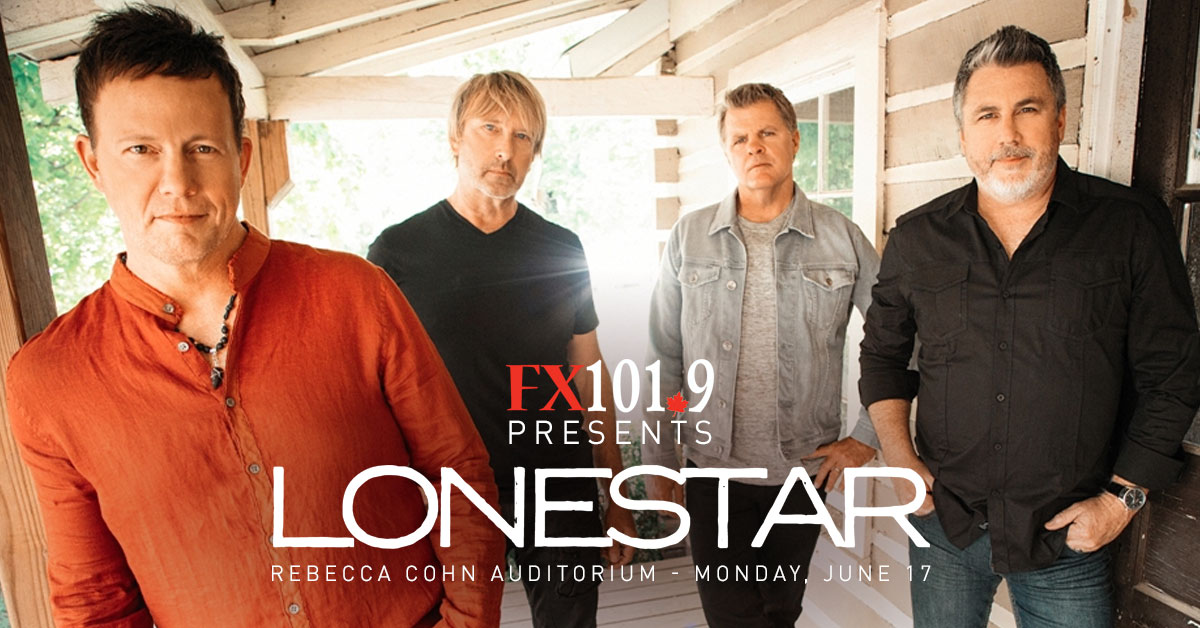 Country Music Association award winners Lonestar are coming to Halifax to perform at the Rebecca Cohn Auditorium on Monday, June 17 at 8 p.m.
For more than 20 years, Lonestar logged countless miles touring throughout the world, performs more than 100 dates per year, released several Platinum-selling albums and ten No. 1 singles, earned ACM and CMA awards and inspired rave reviews as far away as London, where The Guardian proclaimed them exemplars of "country's greatest strength: picture-painting, story-based, tear-your-heart-out lyrics that are the most direct and lucid in popular music."
Lonestar – comprised of lead singer/guitarist Richie McDonald, guitarist/singer Michael Britt, keyboardist/guitarist/singer Dean Sams and drummer Keech Rainwater – wrote together for their most recent and tenth album, Never Enders. Each song is crafted impeccably yet as raw and soulful as all four members' Texas honky-tonk roots.
Lonestar has always set the bar high, but Never Enders exceeds expectations. The exhilarating affirmations of the title track "Never Enders," the haunting reflection on time lost in "My Own Hometown," the emotional honesty of "Us," and their playful, grin- teasing riff on modern love in "I Want a Love" — each song mixes artful craft and the poetry of plain speech, each melody rings clear and all of it reminds us of how emotionally powerful country music can be.
"We come from an era of phenomenal songs," says Michael. "When we got our first record deal, people like Gretchen Peters and Mike Reid were writing amazing stuff. I think we just want to aspire to that level of songwriting more than follow what's on the radio these days."
There are stories behind every song on Never Enders — the TV commercial that inspired the title and concept of "I've Been Wrong Before," the last-minute scramble that perfectly filled a sudden gap in the album with the up-tempo rocker "Twice" and so on.
Known for merging their country roots with strong melodies and rich vocals, Lonestar has amassed RIAA-certified sales in excess of 10 million album units since their national launch in 1995, and achieved ten #1 country hits including "No News," "Come Crying To Me," and their crossover smash "Amazed" (which was also #1 on the Billboard Hot 100, the first record since 1983's "Islands in the Stream", to top both charts). The band's awards include a 1999 ACM Single of The Year for "Amazed" (the song also won the Song of the Year award), and the 2001 CMA Vocal Group of the Year.